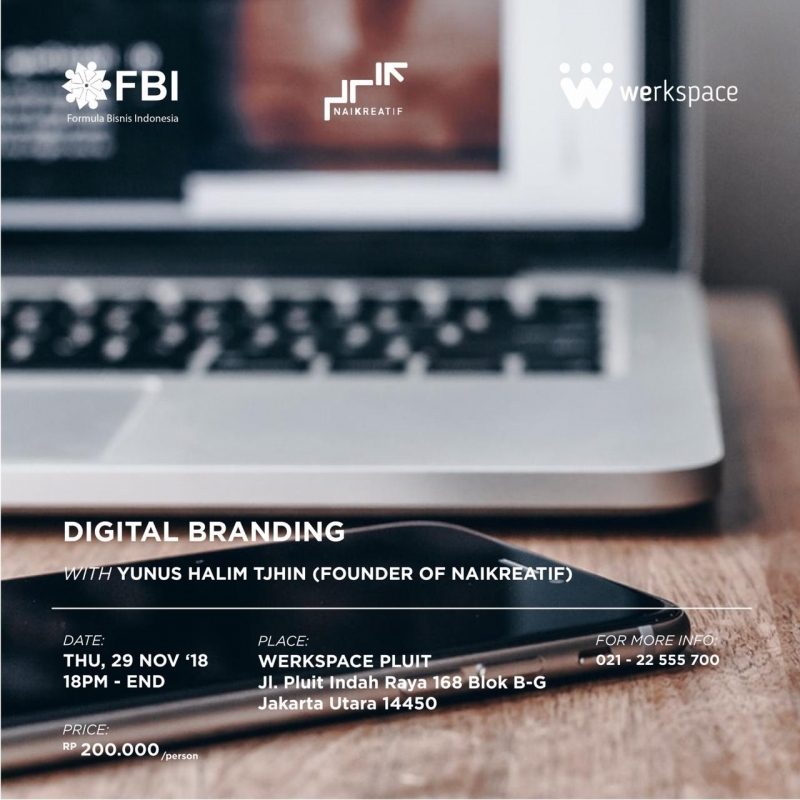 Synergy Business Club
.
Wajah Perusahaan Anda bukan lagi hanya di Website Anda atau company profile, namun di Social Media Anda. Karena generasi Millenial akan mengakses Social Media perusahaan Anda sebelum melihat Website Anda.
.
- Bagaimana cara meningkatkan Value Brand Perusahaan Anda?
- Apakah Anda mengetahui bahwa Brand Anda telah dilihat banyak orang dan dimana saja?
- 10 Goal Social Media Marketing yang wajib di pahami oleh setiap perusahaan.
.
Pastikan Anda Hadir di Synergy Business Club (SBC) dengan sharing session oleh Yunus Halim Founder Naik Kreatif dengan tema:
"Digital Branding"
.
Kamis: 29 November 2018,
Pukul : 18.00 - 21.00
Tempat: Werkspace
Jl. Pluit Indah Raya 168 Blok B-G Jakarta Utara 14450
.
Biaya pendaftaran Rp 200.000 (untuk konsumsi & tempat).
.
Tempat terbatas
Daftarkan diri Anda sekarang.
.
Pendaftaran Hubungi :
Yani ‭0877.88504059‬ (FBI)
Memes 0858.9155.0745 (Werkspace)
I would like to join the event:
To register please fill in this form and one of our representative will get back to you.